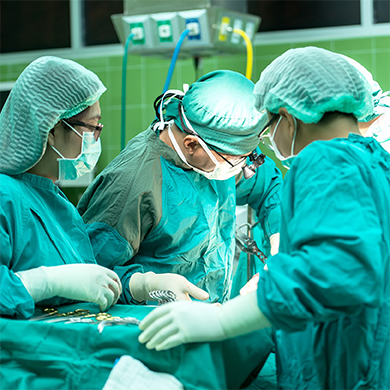 Weight loss after bariatric surgery does not determine whether a patient's nonalcoholic fatty liver disease (NAFLD) persists postsurgery, according to new research.
Raad A. Haddad, MD, from the University of Michigan, and colleagues conducted the study, which was presented at the Endocrine Society's ENDO 2019 meeting on March 23.
To reach their conclusion, the researchers analyzed data on 221 participants with NAFLD who underwent Roux-en-Y gastric bypass (n=128) or sleeve gastrectomy (n=93) at Michigan Medicine from 2008 to 2013.
The median NAFLD Fibrosis Score was higher among participants who underwent sleeve gastrectomy compared with those who underwent gastric bypass. Although both groups showed a reduction in NAFLD Fibrosis Score over follow-up, the median scores of participants in the gastric bypass group were significantly lower at all time points, with marked improvement at 1 year.
Compared with those who received a sleeve gastrectomy, participants who had gastric bypass showed better improvements in median weight loss, low-density lipoprotein level, cholesterol level, hemoglobin A1c level, and triglyceride level.
Of the 83 patients (37.5%) who had follow-up abdominal imaging, 28 (33.7%) had persistent NAFLD at year 1; 28.7% had it at 1 to 2 years; 16.3% had it at 2 to 4 years; and 55% had it at more than 4 years after surgery.
After diabetes and hyperlipidemia were accounted for at baseline, the researchers determined that hyperlipidemia was independently associated with persistent NAFLD. Change in weight did not predict persistent NAFLD.
"These observations suggest that bariatric surgery may have a weight-independent effect on NAFLD," the researchers concluded. "Further studies are needed to examine the effect of disease severity and comorbidities on NAFLD resolution after bariatric surgery."
REFERENCES:
Haddad RA, Lager C, Eldin AJ, et al. Long-term impact of gastric bypass versus sleeve gastrectomy on nonalcoholic fatty liver disease: retrospective observations from Michigan bariatric surgery cohort. Paper presented at: ENDO2019; March 23-26, 2019; New Orleans, LA. https://www.abstractsonline.com/ pp8/#!/5752/presentation/18369. Accessed April 2, 2019.